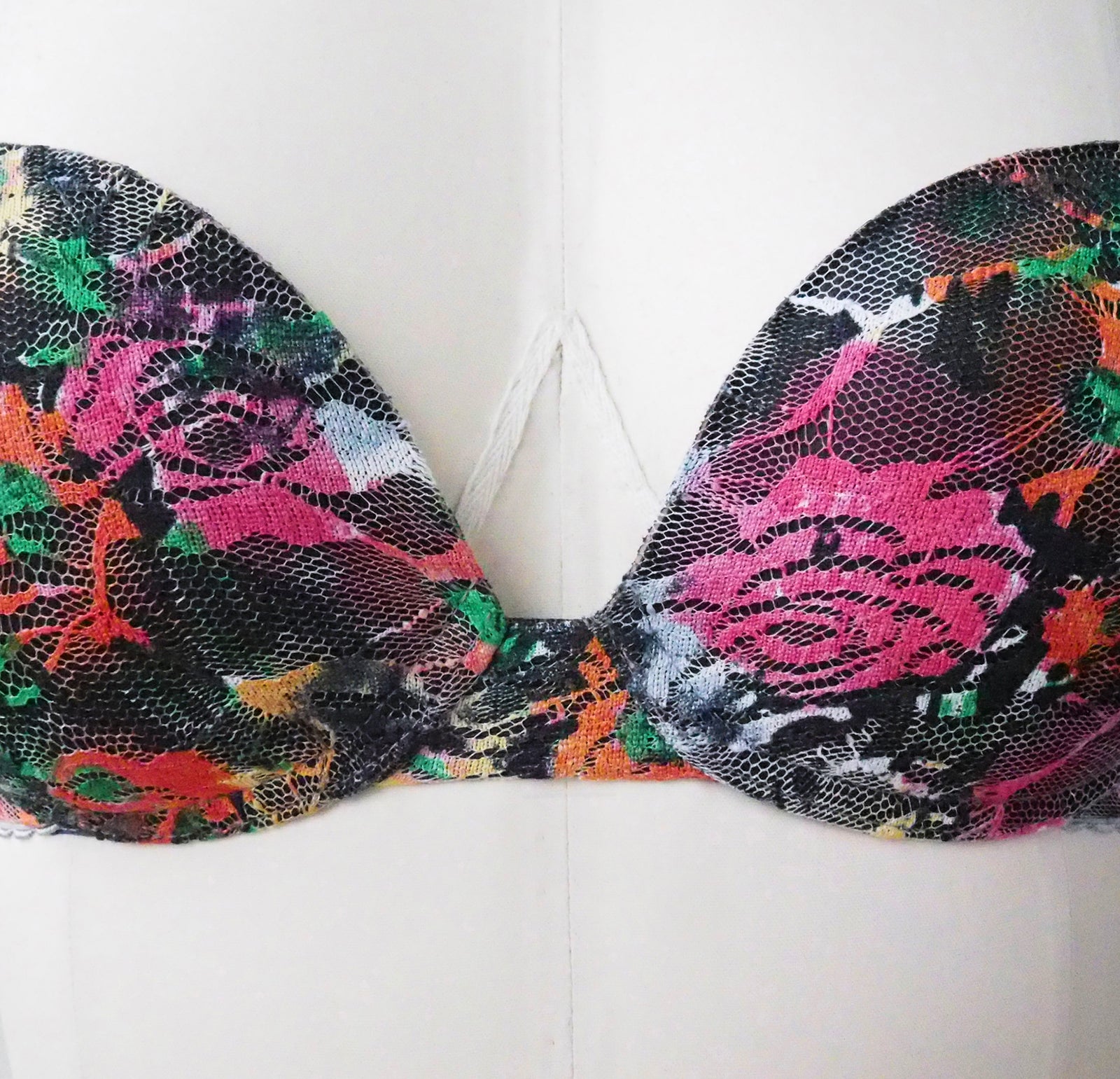 Since our new Mystic bra sewing pattern requires some different materials than our other bra patterns, I thought a post on sourcing the materials was in order! In this post I will review the materials used to make the Mystic bra and tell you where you can find them online.
FOAM CUPS
At the core of this pattern are seamless, pre-formed foam cups. When looking for foam cups, you are looking for a cup with enough structure so that they instantly spring back to shape when pressed and do not collapse under the weight of a mobile phone when placed on top of the domed cup.
You want to avoid any sort of cup "insert" or cups marketed as "sew in cups". These inserts are often not a complete bra cup and do not have the necessary structure to form a bra cup on their own.
I like to use the "angled" foam cups from Bra-makers Supply. I also like their "push up angled" foam cups. They really do give you a boost! Both of these polyester foam cups are firm yet soft so they do not require a lining and they hold up well to washing and wearing. They are also easy to cover with your fabric of choice as directed in the sewing pattern instructions.
Both angled bra cups are sized by the underwire. For example, if you wear a 34B, that size takes a 34 wire and uses a 34 cup. You can use our sister size chart on our sizing page to determine your foam cup size. Just find your size in the table, then look to the first column on the left to find your wire size which is the same as your foam cup size.
UNDERWIRES
The Mystic bra has a beautiful low cut center front. You know from reading my prior post about underwires that I generally like to buy them in bulk, in a longer length, and then cut them as necessary to the exact length that I need for a given style.
Often times, you can avoid cutting the underwires if you are willing to raise (or lower) the center front and height of the upper cup. However, raising the height is not an option when using pre-formed foam cups and lowering the center front is inadvisable. Luckily, I found that the "Plunge" underwires from Emerald Erin Bra Shop fit perfectly into the Mystic Bra, no alterations required! I actually ended up ordering a half dozen pairs for my personal use!
FABRICS
Cups
For a smooth and seamless cup cover, I recommend a smooth 4-way stretch fabric such as lightweight jersey or swimwear fabric that has around 50% stretch in both directions. The stretchier the fabric, the easier it is to work with to get a completely smooth and seamless result.
Being able to use fun stretchy fabrics for bra making is so liberating and it is truly one of the advantages of the Mystic bra! There are so many fun knit prints and colors. With a little fabric manipulation, you can even use the same stretchy fabric throughout the entire bra as pictured in the lead off for this blog post. See my post of fabric manipulation for the details.
To find the recommended cup covering fabric, I like to start by browsing the bra and lingerie making kits from Merckwaerdigh for fun print and color combinations. Be sure to read the kit description before purchasing, but so far every kit I have ever ordered from her has a "soft and supple stretch fabric" for the bra.
When using the Merckwaerdigh kits, I always use a firmer fabric underneath the stretch fabric for both the side band and bridge and a power net underneath for the band. While her kits do not include those fabrics, her kits do include bra making notions, usually (best for the A to C cup size range). Just add underwires to and your foam cups complete the bra.
Bra-makers Supply also has foam cup bra making kits in both solids and prints. Note, these kits contain only the fabrics and you will need to add on the proper size and color notions kit, underwires and foam cups to complete the bra.
Bra Side Band and Bridge, Lining
You need to use a low-to-no-movement fabric such as tricot for the bridge and side band. These areas need to remain stable and unmoving.
If you are using the stretchy cup covering fabric for the bridge and side band, you will need to stabilize it or layer it on top of a stable fabric. Fabric suitable for layering includes tricot and firm linings with no stretch. You can read our tutorial on manipulating fabric to change its properties here.
Band
As with all our bra patterns, this band is designed for a power net with around 35% stretch. You can adapt the bra band as necessary to accommodate more or less stretch by decreasing and increasing the band respectively. For support, I recommend nothing greater than 50% stretch and for comfort, nothing less than 20%.
When layering a stretch lace or knit fabric on top of power net, be sure the material has more stretch than the power net and take care to align the direction of greatest stretch, so that they match.
I also highly recommend adding 2 inches to the band (add 1 inch to the band pattern piece) whenever you are layering fabrics in that area. Adding a layer of fabric decreases the stretch of the band and it is easy to remove any excess in the final stages of bra construction.
I am super excited to see all the beautiful Mystic bras! Be sure to tag them #mysticbra and/or #orangelingerie so I can find them!