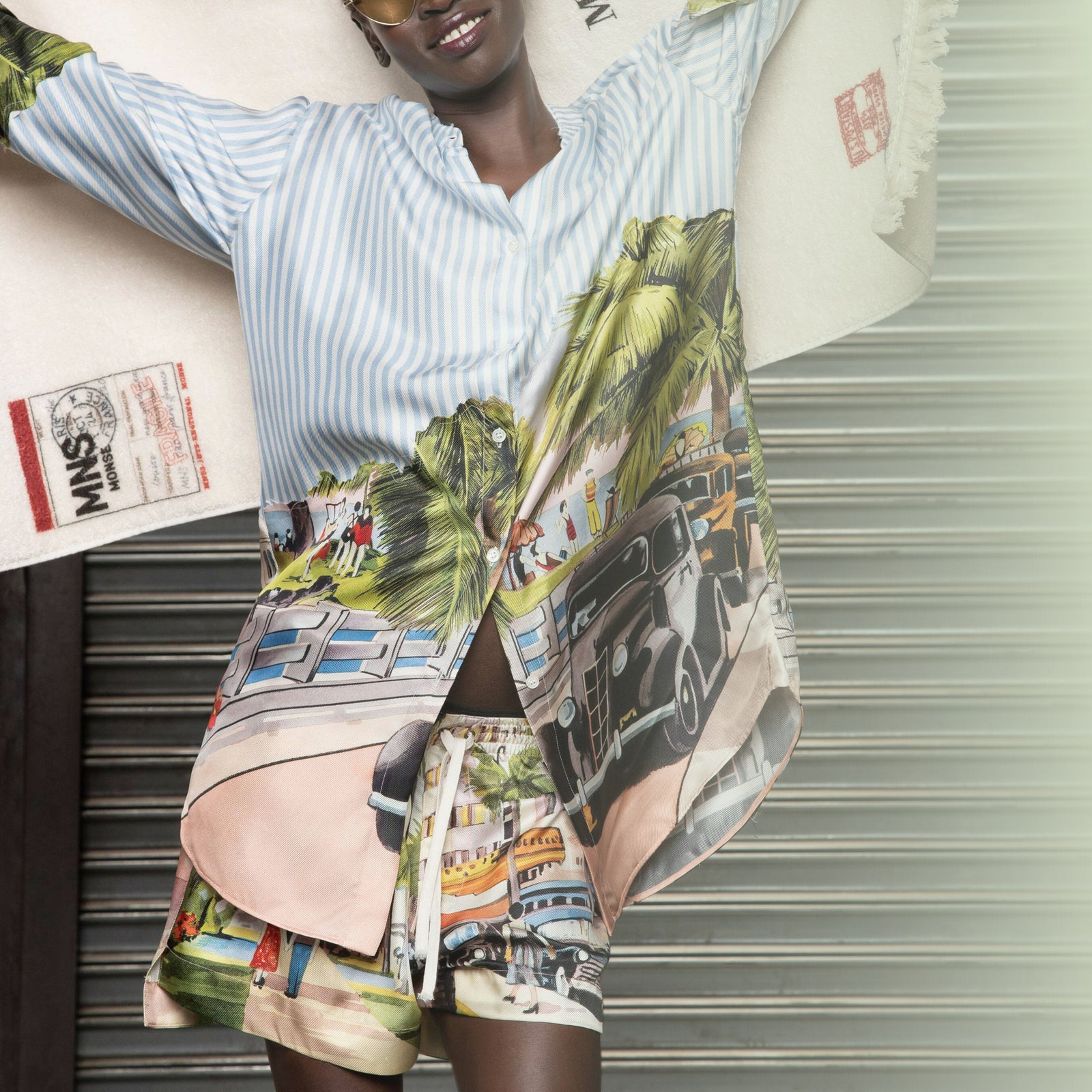 Summer is definitely the perfect season for the
Richdale Tap Shorts
! Let's dive into our special selection of styling inspiration photos and explore the versatility of this pattern! I am as excited as ever to see that lingerie-inspired pieces worn as outerwear are still going strong. Here are beautiful ways you can wear tap shorts for all occasions.
1. WITH AN OVERSIZE T-SHIRT
Tucking a large t-shirt into the waist of tap shorts, with a relaxed billow, is the ultimate cool. I would choose t-shirts made of a rather thin fabric, so that the tuck does not create too much volume inside the shorts. Choosing the right shoes (either dressy or resolutely tough) will prevent the look from looking too pyjama-y, and of course, hats, bags, jewelry, glasses, you name it - will bring the style in the direction you want.


2. WITH A SILK BUTTON UP SHIRT
Love these perfectly matching combos. Plan your Richdale tap shorts sewing project along with a button up shirt made from the same - or very closely related - fabric! The button up shirt gives the look a formal yet cool vibe, and the continuation of the print from top to bottom blurs the lines between pieces. The result is edgy, without trying too hard. I like how the loose shirt is flowing over the shorts, leaving just a little peek a boo at the legs.


3. THE BEACH LOOKS
Here I am talking about all the summery looks one can achieve by pairing tap shorts with tops for hot weather: tank tops, crop tops, spaghetti straps, tube tops! The choice is endless. Breezy textures - lightweight fabrics such as thin linens, indian cottons, silk crepes - and pastel colors for sun-filled moments. Pair with sandals, sneakers and picnic baskets! And maybe a head scarf & sunglasses for a full retro look.
4. THE ROLLERSKATING STYLE
I love the fabulous style of rollerskater dancers, and of any generation - so many decades of fashion excellence, in and out of the rinks: Dolphin shorts, leotards, crop tops, statement long socks... You can go from disco to athletic, play with layering, as long as it is sexy, fun and comfortable. A good reminder that tap shorts can be perfect as active wear, especially if you make them out of slightly stretchy material.
5. THE 80S DANCE STYLE
This kind of styling has Dirty Dancing (the movie!) written all over it. Pair flowy tap shorts with loose tops, in powdered colors or 1980s prints - maybe a spongy headband?! I love how this would be great style for lounging in the house, but also look very cute outside, with white socks and sneakers, maybe a cap and a fanny pack.
6. THE MATCHY MATCHY
Again, the concept of picking your prints to work together on purpose is almost guaranteed success. I like how the two-piece set in the first example is made of different prints that still look like they are part of the same overall drawing, and the wallpaper effect of the second look.
Also, prints are very visually protective - you can wear a very light fabric such as silk without worrying about sweating / revealing the body (nothing wrong about these of course! but some days or occasions one might feel more self-conscious than others).
7. WITH A JACKET
Suit jacket on the left, bomber jacket on the right: both work by giving structure / weight to a look, and either counterbalance the delicate nature of the tap shorts (as with the matte texture of the black jacket against the silky shine of the shorts), or celebrate it fully (the bomber jacket made of exactly the same satin weave as the shorts creates a statement about silk - the shorts become 'bomber shorts'!).
I hope you enjoyed looking through these styles, and that they inspired you to create your own. As always, don't forget to hashtag your makes with #RichdaleShorts and #OrangeLingerie so I can find them all!