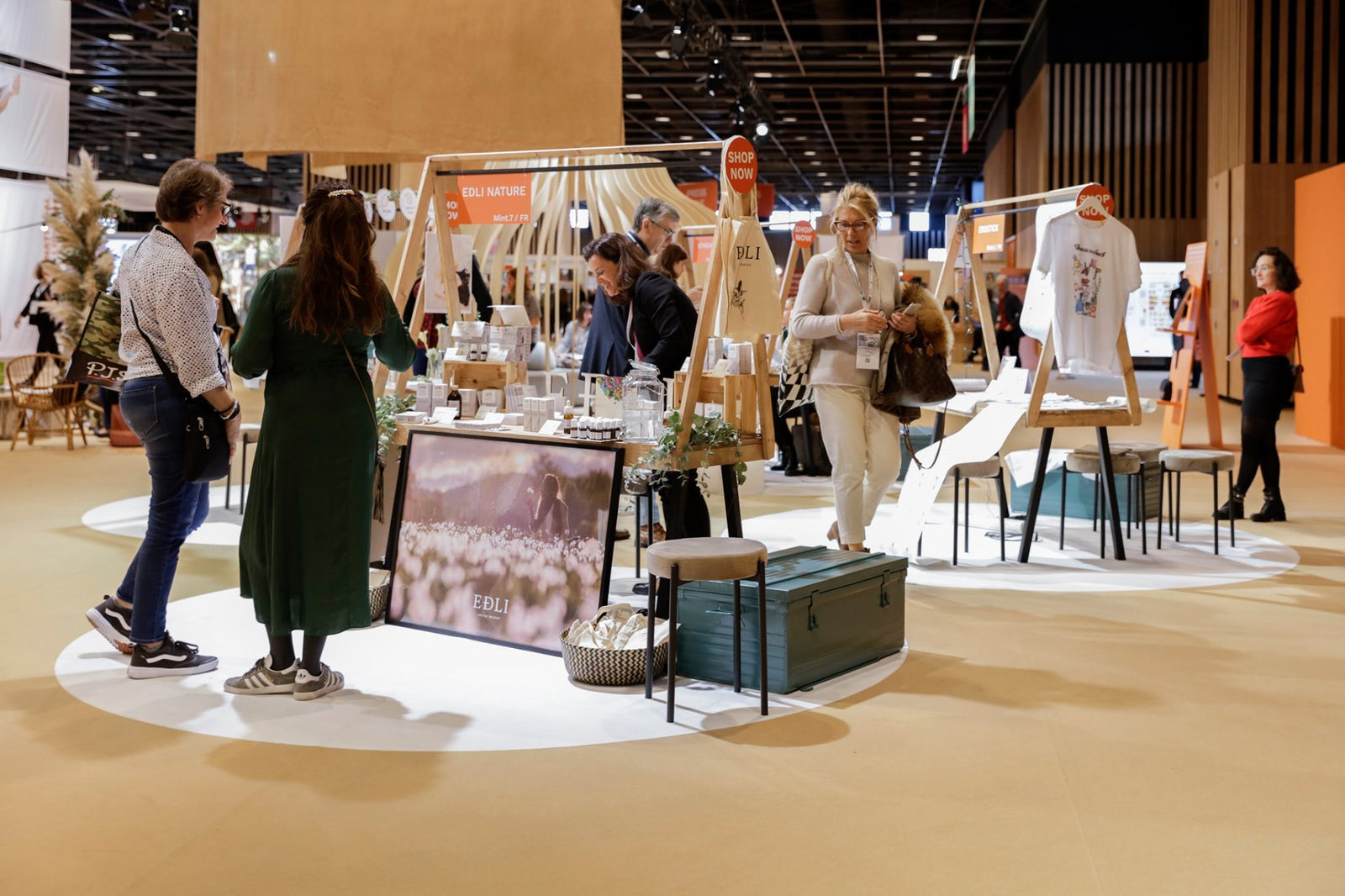 I recently returned from a trip to Paris to visit the Salon International de la Lingerie and it was so inspirational! It was also a lot to take in.
all salon photo credits: Salon International de la Lingerie
I was not able to get many pictures at the show since most companies were not ok with any photos of their upcoming collections, so to compensate I took a lot of notes to capture what I saw as the dominant themes.
I attended the show as part of a special tour organized by SOL Lingerie, a Denver based lingerie shop that is one of the top sellers of European lingerie brands in the U.S. I was fortunate to meet one of the owners of the shop when I taught at Fancy Tiger Crafts in Denver last year and I did not hesitate to snap up a ticket to join their customer group for VIP access to the show (the first consumer group to get access!).
In addition to show access, the group was also treated to several other great lingerie events including private shopping parties at some of the top lingerie shops in Paris. I also got to talk lingerie with a group of lingerie enthusiasts for several days which was a real treat! If you are interested, you can learn more and get your ticket for 2021 here. This is not a paid endorsement! I bought my own ticket and paid for my trip.
At the show, I walked the exhibition floor and got a preview of the upcoming Fall/Winter 2020-2021 collections, attended a fashion show where several exhibitors featured their designs and attended a lace supplier presentation to a major European brand. You can get a sense of what attending the trade show was like in this video (can you spot me in the front row of the fashion show?).
video credit: Salon International de la Lingerie
When reviewing my notes, I found it helpful to break down my impressions into some basic categories; colors, materials, styles and broad themes.
Colors
I noticed a lot of terracotta colors. I especially loved the light rosy/beige tone like the "canyon clay" in the image below. With a little more rose than the current beige-y tones, it is a new looking neutral. I also saw complementary colors to those shades throughout the show.
Materials
There was a lot of lurex in fabrics and laces. The subtle sparkle is really fun. I am seeing a little bit of that right now with the Dita Von Teese Lurex Lace bra below.
I also saw a lot of velvet, especially in body suits with strategically placed sheer panels. I also saw some velvet pieces when I went lingerie shopping at the Bon Marché department store. I think a Boylston bra would look great made with velvet and a Swiss dot mesh upper cup paired with a fun lace trim like the Stella McCartney "Ally Indulging" bra below.
Styles
I was happy to see that the bodysuit trend continues! I think this goes well with the visible lingerie trend that was on the ready-to-wear runways for spring 2021. The La Perla Ambra bodysuit pictured below is one of my favorites. Perhaps an Orange Lingerie bodysuit pattern is in the works?!
To give a new look to the classic T-shirt bra, designers are adding lace to the outer sides of these foam cup bras. It is such a nice way to elevate the T-shirt bra. An example is the Stella McCartney "smooth & lace contour" bra pictured below. I think a Mystic bra would look great with this treatment, including the lace on the back straps. 
I also saw several bra styles with an inverted V bridge like the Simone Perele "Saga Tattoo Demi" Bra. I have been wanting to try bridge modification with a Boylston bra. This is a great way to increase the comfort and fit of the bridge of the bra.
Broad Themes
It was nice to see that sustainability was a featured topic at the show however I am not sure to what degree the concept filters down to the end products. One of the lace suppliers I met with did talk about their efforts to produce their materials in an environmentally conscious way which was encouraging.
I was also happy to see that models of all shapes and sizes appeared in the promotional images and on the catwalk at the fashion shows. It is a welcome trend and I think it is helpful to see the garments on a variety of bodies.
As part of a meeting with a major European brand manager, I learned about their bra design processes, which does not differ much from what we do at Orange Lingerie. It was reassuring that their pattern development process also takes a long time (they are working spring 2021) and also requires many model fittings and adjustments to refine the fit and style.
The key difference with their process is the production side. Manufacturers have laces and materials customized to their needs. Pretty much every aspect of the material can be customized to the brand's needs including stretch factor, lace motif placement, motif repeat and color. Refining the materials is an important part of their patten development process. I was so envious! As someone who sews on a non-production scale, I have to look long and hard from available stock to find great materials.
I asked about what they do with leftover materials and learned that sadly they end up with very little extra. Their markers (the Tetris-like layout of pattern pieces created for each specific material) are very carefully designed to minimize any extras. The company I was meeting with said they give their materials to craft programs and schools.
Overall I had such an amazing trip and I am looking forward to incorporating my inspiration from this trip into our upcoming designs!