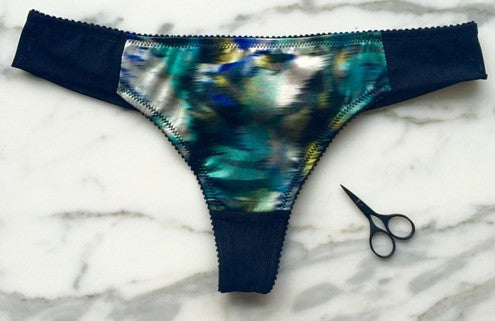 You know I love a matching set! My latest underwear patterns, the Montgomery brief and the Kingston thong were designed to go create a matching set for the Marlborough bra. With the introduction of the Boylston bra, I still *needed* a matching set.
Luckily with just a few pattern and construction changes, you can use fabric in place of the lace for the front panel for both the Kingston thong and the Montgomery brief to create a matching set for the Boylston bra!
To start, the front panel pattern needs to be altered to accommodate elastic. Now that we don't need to have a straight edge to accommodate lace, we can also incorporate some curvature to the front.
To achieve both objectives, add an amount equal to the elastic allowance (⅜" for my patterns) above each side seam. At the center front, mark 3/16" up from the top of the pattern piece. Now just join the marks with a light curve taking care to be symmetrical from side to side. Next, draw in the grainline perpendicular to the stretch line. You can see the changes to the cutting lines illustrated below where the orange lines indicate the revised pattern for a fabric front (note I removed the seam and trim lines to make these changes easier to see).
In terms of construction, there is one key change. You do not attach the waist elastic until after the front and back are attached and that seam is finished. So after step 14 for the Kingston thong and after step 13 for the Montgomery brief.
You will also need to cut a longer length of waist elastic to accommodate the addition of the front panel. You will not be stretching the elastic across the front panel – remember these patterns were originally drafted for a rigid lace panel – so simply add the measurement of the front panel and subtract ½" (for the two ¼" seam allowances on either side) to the originally prescribed amount in the pattern instructions.
The elastic will still be stretched in the power mesh portion of the waist. For the details of that application you can follow the pattern instructions as written.
Now you can use the Kingston and Montgomery patterns to make matching underwear for your Boylston bra!